Electric Water Coolers
HIGH-QUALITY ENERGY-EFFICIENT WATER COOLER WITH BOTTLE FILLER TO FIT YOUR SPECIFIC PROJECT NEEDS
View All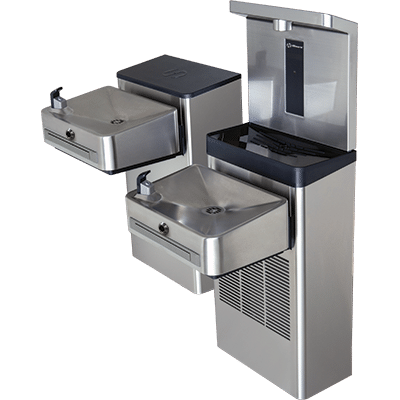 Introducing the All-New EWC 1200 Series
The modern, innovative drinking fountain and bottle filler design is tailored to meld with office spaces, universities and airports, or serve the functional needs of spaces like a school gymnasium. This stainless steel wall-mount ADA water cooler with bottle filler features an electronic bubbler valve and push bar assembly. The sensor activated bottle filler allows for hands free operation, and intuitive LED electronic display keeps the user informed when the water is being filtered and how many plastic bottles have been saved.
Fountain Deactivation Feature
An optional bubbler head deactivation feature is available to allow sites the flexibility to temporarily deactivate and remove the drinking fountain bubbler head.
Explore Our Other Hydration Product Types
Resources
Hydration Resources