Background
The Reno-Tahoe International Airport (RNO) welcomes an average of 10,000 and 15,000 passengers every day. It's the state's second busiest commercial airport, with over 130 daily arrivals and departures from 12 airlines. Emphasizing service, safety, and compliance have always been a priority, and sustainability is quickly becoming a key issue for passengers as well.
Challenges
A growing demand from consumers for a greener airport, RNO was more than ready to upgrade its dated drinking fountains – and they wanted something specific. "Bottle fillers are in high demand from our customers," said David Pittman, former director of facilities. Because the project included both retrofits and new installations, RNO sent out a bid for ADA-compliant, hi-low bottle filler drinking fountain units that could be purchased with various configurations. A bottle counting feature was also a priority, as was product reliability and ease of cleaning and maintenance.
Drinking Fountain
Bottle Filler Solutions
RNO ultimately partnered with Haws. With their modern design and capabilities, two Haws products checked all the boxes for RNO Airport project. Model 1212SF is a wall-mount, filtered hi-low dual station design that allows for standard left-side high/right-side low ADA fountain access. Model 1211S is a wall-mount ADA water cooler with bottle filler. Both models feature sensor activation for hands-free operation and intuitive LED electronic displays that tracks how many plastic water bottles have been saved. An instantaneous tankless water cooler and rapid fill rate ensure quick, consistently cool water for passengers, crew and RNO staff, while an auto-purge feature automatically cycles once every 24 hours to maintain purity.
Learn More about Haws Electric Water Coolers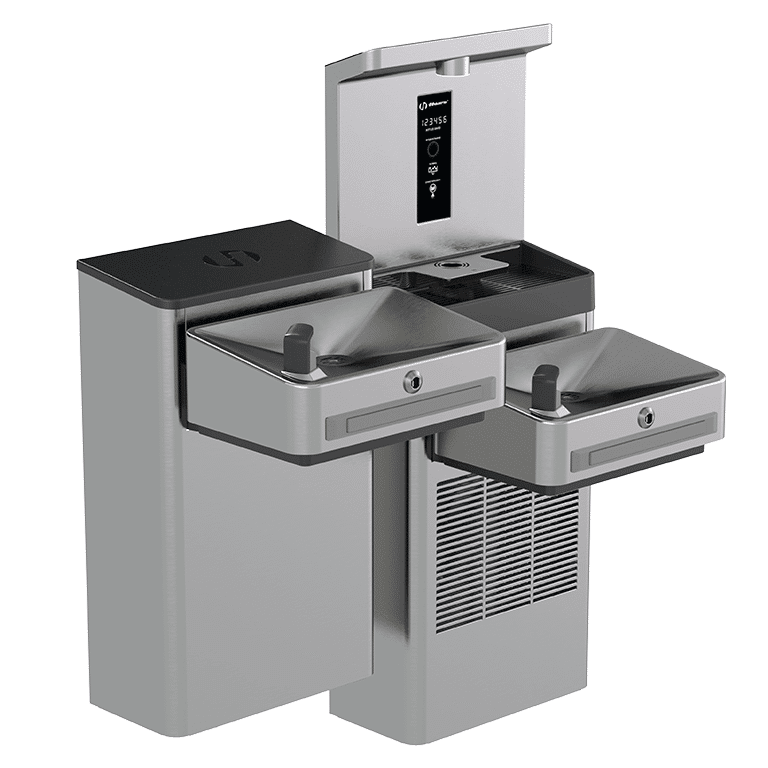 Results
Happy passengers! "We've had quite a few comments about the new Haws units," says Pittman. "Passengers like the touchless feature of the bottle dispenser part of the unit." And because passengers no longer need to force their bottles under the drinking fountain bubbler to fill up, the project has created less water waste and mess.
The bottle counter features also align with RNO's sustainability efforts. "This information is reported quarterly and published annually as part of our Sustainability Report as to how many plastic bottles have been diverted/eliminated from the public landfills," says Pittman.