OSHA and ANSI Requirements for Eyewash and Safety Showers

[via LabManager.com]
ANSI standard Z358.1 is detailed in terms of defining what is appropriate for safety showers and eyewash stations.
As lab managers and employees, we know that many inorganic chemicals (such as the mineral acids and alkalis) are corrosive to the skin and eyes. Likewise we are aware that many organic chemicals (such as acid halides, phenols, and so on) are corrosive and often toxic. Yet we Safety Guys are continually shocked by laissez-faire attitudes toward the use and maintenance of basic safety equipment by lab personnel, and the resultant unnecessary injuries.
One extreme example we constantly recall is the tragic UCLA accident just a few years ago, which resulted in a fatality from chemical burns.1 And we recently noticed a post on the American Industrial Hygiene Association pages for Lab Safety Chemical Exposure Incidents, where improper use of an eyewash resulted in a trip to the emergency room.2
The worker was using a fluorescent stain in the cytogenetics lab and felt something splash into his eyes. He was not wearing safety goggles or glasses. (D'oh!) Long story shortened, he flushed his eyes at the nearest eyewash, but they remained irritated and began to swell shut, necessitating a visit to the emergency room. Back at work a few days later, he noticed a coworker using the same eyewash to clean glassware and stainless steel trays, which were left resting in the sink in a cleaning solution. (What?!)
What does OSHA say?
In 29 CFR 1910.151 Medical Services and First Aid, it states that "where the eyes or body of any person may be exposed to injurious corrosive materials, suitable facilities for quick drenching or flushing of the eyes and body shall be provided within the work area for immediate emergency use."3 OSHA doesn't provide more specifics regarding what constitutes "suitable" or how "immediate" is defined. So how do we know if we are meeting the intent of the law?
Fortunately, we have the American National Standards Institute (ANSI), and their consensus standard Z358.1, last updated in 2014. This ANSI standard is very detailed in terms of defining what is appropriate for safety showers and eyewash stations. In fact, OSHA uses this reference as a guide when inspecting facilities. So let's review what is "recommended" for acceptable safety equipment.
Safety shower specs
Begin by checking your facilities for the proper hardware, as recommended by Z358.1. Rest assured that OSHA will, should one or more agents show up for an inspection. For safety showers, the shower head must be capable of flowing 20 gallons per minute (gpm) at 30 psi and producing a 20-inch diameter spray pattern at 60 inches above the surface where the user stands. The center of the sprayhead pattern should be at least 16 inches from any wall, door, or obstruction. It is recommended that the shower head be mounted between 82 and 96 inches off the floor, with the valve no higher than 69 inches.
Eyewash specs
Eyewash stations target just the eyes and therefore have a lower flow requirement. ANSI Z358.1 recommends a flow of 0.4 gpm also at 30 psi. The nozzles should be at least six inches from any obstruction and mounted between 33 and 45 inches above the floor. An eyewash gauge should be used to verify and test the flow pattern.
Requirements for both
Both safety showers and eyewash stations must be able to provide the recommended flow for at least 15 minutes. This usually translates into having the equipment plumbed in with hard connections to the water supply. For example, a quick calculation for the safety shower at 20 gpm yields 300 gallons needed. Self-contained or personal wash devices are allowed, but they are considered supplemental units that can provide immediate flushing while transiting to the permanent fixture.
If the local climate presents potential for freezing conditions, the equipment must be designed to avoid freezing or protected against that situation. Activation valves must open within one second and remain open until intentionally closed or turned off. It goes without saying that these safety devices should be constructed of corrosion-resistant materials.
The 2014 update to Z358.1 added two important criteria. The first is that the requirement for tepid water is now defined as having a temperature of between 60 and 100 degrees Fahrenheit (15 to 37 degrees Celsius). The second change addresses simultaneous operation for combination units. This means that if you have a drench shower combined with an eyewash station, both devices must provide adequate flows and be fully operable at the same time.
Finally and most importantly, consider the location of equipment. We know you have the 10-second rule etched into your brain, as that is the most critical element when it comes to safety showers and eyewashes. This means that travel to the unit should be under 10 seconds for all hazardous areas that need this equipment. This equals about 55 feet. In addition, the drench shower or eyewash must be on the same level as the hazard and have a clear path for travel. We recommend painting or marking the floor area underneath the shower to help keep it clear. Z358.1 also recommends equipment be installed in a brightly lit area and marked with a highly visible safety sign.
Maintenance and training
The last thing you want is to rush to the eyewash or shower, only to be drenched with nasty, sediment-laden water. ANSI recommends flushing all equipment weekly to verify proper flow, and clearing the plumbing of any deposits. If your facility does not have floor drains installed, remember to bring a large, plastic trash can to catch the water. The weekly flushing can also provide a great training opportunity to refresh the operation and travel paths for your employees.
If you want to find out about the ANSI/ISEA Z358.1 significant requirements, attend our free 1-hour webinar on September 21st, 2017.
Register now and become subject matter experts of your emergency eyewash and shower equipment including weekly and annual testing. Request a certificate of attendance after the webinar.
This free webinar will cover:
• ANSI/ISEA Z358.1 significant requirements
• Important 2014 revision highlights
• Compliance best practices
• Live Q&A
WHAT: All You Need to Know About ANSI Z358.1 Webinar
WHEN: September 21, 2017 from 10am-11am PT / 1pm-2pm ET
PRESENTER: Justin Dunn, Product Specialist/Trainer and Samantha Hoch, Marketing Strategist
HOW: Register for free
Attendees will receive these complimentary materials after the webinar:
• OSHA white paper
• Weekly and Annual ANSI Checklist
• Access to On-Demand Webinar
References
1. "tert-Butyllithium Claims Fellow Chemist at UCLA," Chemistry Blog, January 19, 2009, http://www.chemistry-blog.com/2009/01/20/tert-butyllithium-claims-fellow-chemist-at-ucla/.

2. "Lab Safety Chemical Exposures Incidents," American Industrial Hygiene Association, https://www.aiha.org/get-involved/VolunteerGroups/LabHSCommittee/Incident%20Pages/Lab-Safety-Chemical-Exposures-Incidents.aspx.

3. "Medical Services and First Aid," US Department of Labor, Occupational Health and Safety Administration, https://www.osha.gov/pls/oshaweb/owadisp.show_document?p_table=STANDARDS&p_id=9806.

TRADESHOW: Join us @ Safety & Health Expo in London. Your entry is on us!

Haws Switzerland
AG  invites you to join us at the Safety & Health Expo June 20-22, 2017 at Excel London.

Safety & Health Expo, organized by UBM EMEA, is the UK's leading global health and safety event, providing visitors with CPD accredited education, the latest health and safety products and services, valuable networking opportunities and much more.

Are you interested in attending?  If so, we'd like to offer you a free badge to the expo!  Click on this link and fill out your information.

Don't forget to stop by our Stand No. M215 to learn more about our various product offerings including our EN and ANSI compliant emergency eyewash and shower equipment.

We hope to see you there!

REPOST: Compliance of Eyewash Stations in Healthcare

Medical Environment Update

September 1, 2016

SECTION: Vol. 26 No. 9 ISSN: 1520-8222

  Editor's note: In this story, which originally appeared in Facility Care, consultant Brad Keyes, CHSP, explains the complex world of eyewash stations.
   When and where are eyewash stations required in a healthcare facility? This is one of the more frequent issues with which healthcare professionals struggle. There is a tendency to place these stations nearly everywhere, but in reality there aren't as many locations that require eyewash stations as one may think.
   Eyewash stations are required wherever there is a possibility that caustic or corrosive chemicals could splash into an individual's eye. It is important to note that blood and body fluids are not considered to be caustic or corrosive. It is also important to note that the use of PPE such as face shields, glasses, or goggles does not exempt a facility from needing an eyewash station.
   Where to place a station
   Most accreditation organizations base their positions on whether an eyewash station (or an emergency shower) is required on the healthcare organization's decision to conduct a risk assessment, and on the findings of that assessment. Areas where work is done with corrosive and caustic chemicals do not necessarily require an eyewash station or emergency shower unless chemicals could be splashed into the eyes or onto the skin. An exception is if an eyewash station is part of regulation or accreditation requirements.
   For example, if an environmental services worker opens a 1-gallon container of a liquid cleaner that is considered caustic or corrosive, and inserts a suction tube for a mixer, that may not present much of a splash hazard, and a risk assessment could state that an eyewash station is not warranted.
On the other hand, if the risk assessment determines the removal of the suction tube constitutes a splash hazard, then an eyewash station would be required. Similarly, if the employee pours this chemical from its original container into another container, now the risk of a splash is much greater, and a risk assessment would likely require an eyewash station. All risk assessments are conducted with the presumption that staff will not be wearing any PPE, although eye protection, face shields, and gloves and aprons must be worn during the use of caustic or corrosive materials.
   If there are no corrosive or caustic chemicals present, there is no need to conduct a risk assessment and therefore no need for an eyewash station. Whether the term "corrosive" or the term "injurious corrosive" is used to describe a chemical, it's all the same. Either would cause an injury.
   If there is a possibility that a corrosive or caustic material can be splashed onto the skin, then an emergency shower is required. But if a risk assessment determines there is no possibility of the chemicals splashing onto the skin through normal use, there would not be a requirement for an emergency shower. The risk assessment should also consider emergency spills as well. Just like eyewash stations, if regulation or accreditation standards require the presence of emergency showers, you would need to install one regardless of whether corrosive or caustic materials are present.
   No fair substitute
   While portable squeeze bottles are not prohibited, they are not a substitute for an approved ANSI Z358.1-2014 eyewash station because they don't provide hands-free use and do not flow water continuously for 15 minutes. In fact, portable squeeze bottles are a potential problem for healthcare organizations since they are usually placed around an area where a potential hazard may occur. In other words, they are placed in locations where somebody decided that there is some sort of splash risk present and that a portable bottle would be of some use. This can lead to the incorrect assumption that portable bottles are an approved eyewash station.
   In addition, portable squeeze bottles need to have their water changed every two years or so, and that can be overlooked at times, leading to a citation. Also, these bottles are a huge red flag to a surveyor-once he or she sees the portable bottle, a tracer is likely to follow.
   A mandatory guidance?     
   The ANSI Z358.1-2014 standard for eyewash stations is based on recommendations from OSHA letters of interpretation. OSHA requires an employer to provide suitable facilities for quick drenching or flushing of the eyes and body when employees may be exposed to injurious corrosive materials. ANSI standards become mandatory OSHA standards only when they are adopted by OSHA. ANSI Z358.1 has not; however, it provides detailed information regarding the installation and operation of emergency eyewash and shower equipment. OSHA, therefore, has often referred employers to ANSI Z358.1 as a source of guidance for protecting employees who may be exposed to injurious corrosive materials. Accreditation organizations seem to have latched on to ANSI Z358.1 as the standard with which to comply.
   A proper assessment
   The organization is expected to conduct a risk assessment (or survey) of its facility's operation and process areas to determine if and where eyewash stations are needed. If the facility has determined that an eyewash station is needed, that station needs to conform to ANSI Z358.1-2014, which has the following specifications:
   * Only eyewash stations that are capable of providing a flow of clean, potable water at a rate of 0.4 gallons per minute at 30 psi for 15 minutes are permitted. Some self-contained eyewash stations provide this flow requirement, but normally plumbed eyewash stations are installed.
   * The flow nozzles of the eyewash station must be mounted a minimum of 33 inches and a maximum of 45 inches above the floor, and a minimum of 6 inches from any wall, post, or other barrier.
   * Activation of the eyewash station must occur within one second or less of operating the control valve, so this typically eliminates the faucet-mounted eyewash stations that require the operation of three -levers to obtain a balanced flow of water. The control valve must remain open on its own until it is intentionally turned off.
   * Approved eyewash stations are required to be located within 10 seconds' travel time (or 55 feet) of the hazard, and the path to an eyewash station must not be hindered or obstructed. The ANSI Z358.1-2014 standard has changed (for chemicals NOT considered to be corrosive) to allow one door in the path to an eyewash station, provided the door cannot be locked and the door swings toward the eyewash station.
   * While there is no standard that prohibits small, supplemental personal wash bottles, they cannot meet the flow rate requirements for a 15-minute flush, and therefore are not a substitute for a plumbed eyewash station. They can serve as a supplemental aid, but the plumbed eyewash station still needs to be located within 10 seconds' travel time (or 55 feet) of the hazard. The presence of personal wash bottles may indicate a need for a plumbed eyewash station.
   * The temperature of the water must be tepid. The ANSI standard defines tepid water as being between 60 and 100 degrees Fahrenheit. To achieve this temperature range, the organization may have to install mixing valves. Some accreditation organizations allow water temperatures outside of this range, provided a risk assessment is conducted by qualified individuals who analyze the hazard and the temperature of the water to flush the hazard. Qualifying individuals must include an individual with clinical or medical training.
   * Weekly activation of the plumbed eyewash stations is required to clear any sediment or bacteria. There is no specified time that the water must flow. An annual inspection of the eyewash station is required to determine conformances with the installation requirements are maintained.
   Tips for evaluating compliance
   Here are some recommendations on evaluating your existing eyewash stations for compliance:
   * In a healthcare setting, eyewash stations are typically found where cleaning chemicals are mixed (such as housekeeping areas); where plant operations take place; and in kitchens, generator rooms, boiler rooms, environmental services storage rooms for battery-powered floor scrubbers, in-house laundries, dialysis mixing rooms, and laboratories. Find out whether a risk assessment has been conducted to determine the need for eyewash stations.
   * All required eyewash stations must be operated in one second or less. This means the faucet-mounted type that requires turning aa hot water lever and a cold water lever, and then pulling a center lever, is not permitted.
   * Access to the eyewash station must be within 10 seconds (or 55 feet) of the hazard. The individual seeking an eyewash station may travel through one door to get to an eyewash station, provided the chemical is NOT corrosive and the door is unlockable and swings toward the eyewash station.
   * If an eyewash station is observed outside of an area where one is typically needed, ask the staff who work in the area why it is there. See if they have conducted a risk assessment that requires it to be there. Advise them that if there is no valid reason for the eyewash station to be there, it can be removed, which may save them the time and resources spent in maintaining it.
   * Eyewash stations may need to have a mixing valve to maintain a flow of water in the 60- to 100-degree Fahrenheit range. Ask to see the risk assessment to determine whether a mixing valve is required.
   * Every plumbed eyewash station needs to be tested weekly by flowing water to clear any sediment and bacteria. There is no requirement regarding how long the water must flow. Every eyewash station must be inspected annually to determine whether the eyewash station still conforms to the installation parameters. The weekly test and annual inspections must be documented.
   * The presence of eyewash bottles indicates someone in the organization decided the bottles were needed. Investigate and ask why the bottles are there. Determine whether there is a need for a plumbed eyewash station within 10 seconds' travel time (or 55 feet) of the perceived hazard. Check the expiration date on the bottles.
   * Finally, always check with your state and local authorities to determine whether they have any additional requirements.

ANSI Z358.1 FAQ: What is the Weekly Test vs. the Annual Test?

Are you unsure of when you should test the emergency showers and eyewashes in your facility? Do you know the difference between the weekly and annual testing requirements? In certain cases, a full 15-minute drench period is not required, however it is important to know what is required on a weekly basis versus annually.
ACTIVATE WEEKLY
Per the ANSI Z358.1 standard, you are required to activate the emergency equipment weekly to verify operation and to ensure there is a flushing fluid supply and clear the supply line of any sediment build-up that could prevent the flushing fluid from being delivered due to stagnant water.
How long do you activate for? ANSI states the duration of the weekly activation depends on the amount of water contained in the unit itself and all sections of pipework that are not a part of a constant circulation system, also known as the "dead leg" portions. The goal of the weekly activation is to flush out the stagnant water in the dead leg completely.
TEST ANNUALLY
All emergency eyewashes, eye/face washes, showers and combination units are required to be fully inspected annually to ensure conformance with the installation section of the Z358.1 standard for that type of equipment. The following some of the requirements that need to be met for the annual test:
The equipment must be assembled and installed in accordance with the manufacturer's instructions, including flushing fluid delivery requirement.
Equipment must be accessible within 10 seconds, located on the same level as the potential hazard, and must be free of obstructions that may inhibit immediate use.
Must be identified with well-lit, highly visible signage.
Equipment must be connected to a supply of flushing fluid that can produce the required flush time of a full 15 minutes.
Where the possibility of freezing conditions exists, equipment must be protected from freezing or freeze-protected equipment must be installed.
Must deliver tepid flushing fluid for the full 15-minute drench period.
Equipment must go from "off" to "one" in one second or less.
Must provide a controlled flow of flushing fluid at a velocity low enough to be non-injurious to the user.
How long do you activate for? As stated above, you need to ensure the equipment is is delivering tepid flushing fluid for a full 15 minutes.
For full detailed information on the ANSI Z358.1 requirements for Emergency Eyewashes and Showers, watch the FREE on-demand webinar

HERE

.
For more ANSI resources such as a testing checklist, click here.

Preparation: The Best Guard to an Emergency

Do you know the protocol to flushing hazardous chemicals off of your body in an emergency? It's always a good rule of thumb to be knowledgeable on how to properly execute safety shower and eyewash performance in an emergency situation. Take the time to get to know the mechanics of the emergency equipment in your facility before an accident takes place. Casey Hayes, director of Haws Integrated™, recommends the following:
Get a proper training session on emergency equipment. Be aware of the location of the unit and how long it takes to arrive at the unit from your work space.
Confirm that it should not take more than 10 seconds to arrive to the emergency equipment.
Upon arrival to the shower, pull lever and remain in shower for a full 15 minutes. This is to ensure the prevention of chemical absorption while it also helps to cool burns and prevent hypothermia.
When using an eyewash or eye/face wash, hold eyes open during the entire 15 minute flushing period.
In some cases, it may be appropriate to have a partner with you during the state of emergency. If you work alone, you may not have the opportunity to have someone assist you. We recommend that if you are in a state of shock, have a co-worker assist you to the emergency shower and or eyewash station. If you are saturated in chemicals, it is best not to expose anyone else and to proceed to the emergency station alone.
Always go to the emergency room following the use of the emergency shower and/or eyewash.
Furthermore, it's essential to have functional emergency showers and eyewashes throughout your facility. Refer to our previous blog post ANSI Z358.1 FAQ: What is the Weekly vs. Annual Test for a break down on when it is appropriate to perform each test. We also offer a free webinar on the requirements for emergency eyewashes and showers. Click here to watch.

Social Frenzy: Emergency Showers & Eyewashes in Action
ANSI Z358.1 DEBATE: "1-Touch" vs. "1-Second" Activation

The  ANSI Z358.1 Standard (American National Standard) mandates that proper eyewash activation – which describes a unit going from "off" to "on"- shall take one second or less.  This requirement has held true since the inception of the ANSI Standard in 1981 and throughout all revisions including 1990, 1998, 2004, 2009 and 2014. Despite this, the myth that the eyewash must go from "off" to "on" in one motion continues to be inaccurately shared.

To quote the 2014 Standard: "The valve shall be simple to operate and shall go from "off" to "on" in 1 second or less."

This disconnect in awareness of the activation requirement has come up especially pertaining to faucet-mounted eyewashes where it is required for the user to turn on the water supply and then activate the unit, hence a two motion activation.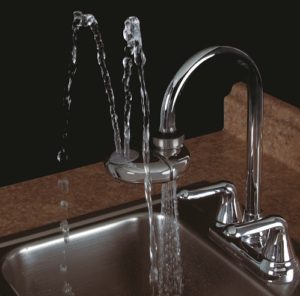 Specifically, the Haws® AXION® eyePOD® faucet-mounted eyewash has proven through testing that it meets the "off to on in one second or less" activation requirement.
Mounting easily to standard faucets, the AXION eyePOD provides healthcare offices, laboratories, schools, and even households with medically consistent inverted eyewash flushing technology.
As seen below, a simple rotation of the unit transforms normal faucet capabilities into a fully-functioning, ANSI compliant eyewash station.


Medically Superior Response®
The trademarked inverted water streams gently flush contaminants away from sensitive glands and ducts that surround the eye. The added protection to these valuable organs helps reduce against unnecessary injury.

Click here to learn more about the AXION eyePOD.

If interested in pricing information or receiving a quote, click here.

For more information on the ANSI Z358.1 Standard for emergency showers and eyewashes, visit our ANSI Resources page.

OSHA regulations vary for eyewash flushing & shower drenching
Written by: Wesley J. Maertz
The question often comes up as to where OSHA calls out eyewash requirements. Emergency shower and eyewash station equipment needs are referenced in two different types of OSHA regulations. The first is applicable to all general industry or construction facilities that require the installation of emergency shower or eyewash station equipment. The second type is specific to certain industries.
Both regulation types specify where and when emergency eyewash and shower equipment must be available. Neither, however, specifies minimum selection, installation, operation or maintenance requirements. For the answers to these questions, organizations must turn to the American National Standards Institute (ANSI)/ International Safety Equipment Association (ISEA) American National Standard for Emergency Eyewash and Shower Equipment standard, (ANSI/ISEA Z358.1-2014).
General applicable regulations
When working with corrosives, drenching facilities must be readily available according to 29 Code of Federal Regulations (CFR) 1910.151(c) for general industry and 29 CFR 1926.50(g) for construction industry. Both state, "Where the eyes or body of any person may be exposed to injurious corrosive materials, suitable facilities for quick drenching or flushing of the eyes and body shall be provided within the work area for immediate emergency use." These drenching facilities could include an eyewash, eye/face wash, shower or combination eye/face wash shower depending on the amount of possible exposure. Because OSHA does not clarify the minimum requirements for "suitable facilities," employers often look to the ANSI/ISEA Z358.1 Standard for Emergency Eyewashes and Shower Equipment for guidance.
Specific industry applicable regulations
There are also industry specific regulations that address emergency drenching requirements. You must be familiar with these specific requirements if they apply to your workplace:
♦ Open Surface Tanks 29 CFR 1910.124(g)(2) and(3):
"An emergency shower and eye-wash station close to the dipping or coating operation. In place of this equipment, you may use a water hose that is at least 4 feet (1.22 m) long and at least 3/4 of an inch (18 mm) thick with a quick-opening valve and carrying a pressure of 25 pounds per square inch (1.62 k/cm2) or less; and at least one basin with a hot-water faucet for every 10 employees who work with such liquids.
♦ Anhydrous Ammonia 29 CFR 1910.111(b)(10)(iii)
"Stationary storage installations shall have an easily accessible shower or a 50-gallon drum of water."
♦ Powered Industrial Trucks 29 CFR 1910.178(g)(2)
"Facilities shall be provided for flushing and neutralizing spilled electrolyte, for fire protection, for protecting charging apparatus from damage by trucks, and for adequate ventilation for dispersal of fumes from gassing batteries."
♦ Pulp, Paper, and Paperboard Mills 29 CFR 1910.261(g)(5)
"…A deluge shower and eye fountain shall be provided to flush the skin and eyes to counteract lime or acid burns."
♦ Telecommunications 29 CFR 1910.268(b)(2)(i)
"…Facilities for quick drenching or flushing of the eyes and body shall be provided unless the storage batteries are of the enclosed type and equipped with explosion proof vents, in which case sealed water rinse or neutralizing packs may be substituted for the quick drenching or flushing facilities. Employees assigned to work with storage batteries shall be instructed in emergency procedures such as dealing with accidental acid spills."
♦ Formaldehyde 29 CFR 1910.1048(i)(3)
"If there is any possibility that an employee's eyes may be splashed with solutions containing 0.1 percent or greater formaldehyde, the employer shall provide acceptable eyewash facilities within the immediate work area for emergency use."
Consensus applicable regulation
ANSI/ISEA Z358.1-2014 is a voluntary national consensus standard that OSHA refers employers to as a recognized source for guidance. It helps users select, install, operate and maintain emergency eye wash and shower equipment. The standard is divided into five sections and each section addresses minimum performance and use requirements, as well as installation, testing procedures, maintenance and training requirements. OSHA often uses ANSI/ISEA Z358.1-2014 as a guide during inspections and may elect to issue penalties based on non-compliance.
To ensure that eyewash stations and showers are always ready when needed, it is important that the requirements for test procedures and maintenance set forth in ANSI/ISEA Z358.1-2014 be followed. The requirements for testing and maintaining eye, eye/face washes and showers are based on the manufacturer's instructions and ANSI protocols. Generally, the manufacturer's instructions state that the devices should be inspected tested and the results recorded weekly. Individual owners' manuals should be looked at for the specific manufacturer's guidelines.
Determination of a corrosive material
Within the general guidelines, occasionally the question comes up as to whether OSHA requires eyewashes for anything other than injurious corrosive chemicals. In a May 5, 2004 letter of interpretation, OSHA states: "As the standard states, an eyewash and/or safety shower would be required where an employee's eyes or body could be exposed to injurious corrosive materials. If none of the materials used in this work area is an injurious corrosive (as indicated by the Material Safety Data Sheet (MSDS) for each product), then an emergency eyewash or shower would not be required pursuant to 1910.151(c) and 1926(g)"

Corrosive material is present in many workplaces either by themselves or contained in other materials. It is a good idea to refer to several sources to determine if a chemical is considered a corrosive to OSHA's definition as it applies to eyewashes.

One of the easiest ways to identify if a chemical has corrosive properties is to use OSHA's Hazard Communication Standard (29 CFR 1910.1200) and the Globally Harmonized System of Classification and Labelling of Chemicals (GHS) as a guide.  The universal symbols/pictograms used on labels and containers provide clear indications if a chemical is a corrosive.

Another source to identify if a chemical is corrosive is the Safety Data Sheet (SDS). Section 2 of the SDS will quickly provide the same information found on the shipped container label including the pictogram and precautionary statements. Section 9 of the SDS provides more details about the physical properties of the chemical including pH, which is the measure of how basic or acidic the chemical is on a scale of 0-14. A rating below seven is more acidic and above seven is more basic.

One other source to reference is the NIOSH pocket guide. The pocket guide presents key information such as pH in abbreviated or tabular form for chemicals or substance groupings that are found in the work environment.

[via ISHN]

The Difference Between AXION and Other Eyewashes

AXION® is an eye/face wash that covers not only the eyes but the entire face unlike most other products that just flush the eyes. Secondly, the AXION inverted water streams protect sensitive eye ducts and glands.

Additional features:

• Smooth laminar flow provide comfortable water pressure
• ANSI Z358.1 compliance for velocity, stream height, and gallons per minute
• Predictable stream height provides enhanced victim comfort for full 15-minute flush
• In-line strainer collects debris to help reduce injury aggravation
• Stainless steel ball and valve for durability
• Pre-built and fully water tested for reliability
• Integral flow control designed to match flow needs for ANSI compliance
• Customized facility options with corrosion-resistant ABS plastic or stainless steel

To learn more about the AXION technology, click here>>
Ready to retrofit your existing eyewashes to the AXION Technology? Our AXION Advantage® kits do just
that. The kits are supplied with adapters to convert 80% of competitive units including Acorn®, Bradley®, Encon®, Guardian®, and Speakman®. Simply twist off the old eyewash heads, apply the correct adapter, twist on the AXION eye/face wash head, and test for ANSI compliance! Click here to learn more or buy now!

PRODUCT OF THE MONTH: Steam Water Heater

Haws Model 9400 AXION® Steam Water Heater uses existing plant steam to create a hot water supply to provide emergency showers and eyewashes with constant tepid water with flows up to 25 GPM per the ANSI Z358.1 Standard.
The AXION Steam Water Heater operates on a typical plant steam pressure. The plant steam and water never mix. The steam and water are separated by brazed plate heat exchanger. Steam temperature reaching a high of 350 degrees Fahrenheit, with steam pressure reaching a high 60 PSIG and a low pressure of 3 BAR. Water temperatures reach a high of 80 degrees Fahrenheit with a low of 40 degrees Fahrenheit. The water pressure reaches a high of 90 PSIG and a low of 4 BAR. The water and steam feature for the AXION Steam Water Heater work together to create a product that provides a safety solution for increased victim comfort.
Features of the AXION Steam Water Heater include:
Flow Regulation
Freeze Protected
Fully Assembled
Thermostatic Protection
Meets requirements of Buy America Act
Benefits of the AXION Steam Water Heater include:
Lightweight design
Easily supported by pipe connections
Protective enclosure can be readily removed for servicing
Shuttle design that eliminates valve sticking
Provides a safety solution for increased victim comfort
View the Model 9400 Spec Sheet here>>

Looking to talk to someone for more details regarding the AXION Steam Water Heater? Ask an Expert! The question box is located at the third tab on the bottom of the page. Click here to be directed to the Ask an Expert link.

FREE Webinar: ANSI Z358.1 Standard for Emergency Showers/Eyewashes

The American National Standards Institute (ANSI) introduced the ANSI Z358.1 – 2014 Standard for Emergency Eyewash and Shower Equipment update in January 2015.
This free webinar will provide insight on:
• Emergency Eye/Face Washes, Showers & Combination Units
• Tepid Water
• Best Practices

PRESENTER: Casey Hayes, Director of Haws Integrated™ Operations
DATE: Thursday, Oct 22
TIME: 10am-11am PT/1pm-2pm ET

Register now to gain insightful knowledge and receive answers on ANSI requirements from a safety-industry expert, Casey Hayes who has more than 25 years of safety experience and helped develop the current standard. 

Case Study: Ethanol Production Facility Upgrades to Meet Compliance
Workplace safety has been a focus from the very start at East Kansas Agri-Energy (EKAE). With awards from both Occupational Safety and Health (OSHA) and Kansas Department of Labor for exemplary safety systems and safety records, EKAE truly sets the standard for safety.
After coming across an advertisement for AXION Advantage® upgrade kits in the EHS Today Magazine, Safety staff followed up with online pricing research of the facility's existing safety equipment brands.