Irrigate eyes like medical pros

[First seen in ISHN Magazine June 2018]
Introduce the flushing fluid at the inner corner of the eye
An injury can change life in an instant. According to the National Safety Council, occupational injuries occur every seven seconds in the United States. Luckily, through the years, stringent regulation and a growing concern for the health and well-being of employees has led to advancements in processes, safety procedures, and first aid protocols to treat the injured. This movement has had a profound impact on emergency equipment, including the eyewash industry. 
In the early 1900s, it was said that a well-known energy company created the first emergency eyewash by taking two bubbler heads from drinking fountains and mounting them on opposite sides of a sink facing each other with plumbing run to both of the heads (see photo). When activated, the water streams formed a double arch that directed water from the outer perimeter of the sink to the center. An injured victim would place their face into the double streams and irrigate both eyes simultaneously. It was a great concept and one that took the safety industry to a new level over the subsequent years.
Yet, as medical advancements continued to evolve, the eye irrigation process in emergency situations did not quite follow suite. Irrigating with water streams that contact the eye at its outer corner, or canthus, and flow inward toward the nose is diametrically opposed to the way medical professionals irrigate eyes.
Think about how you use eye drops. The general practice is to tilt the head back and place the dropper near the inner corner for the drops to drain to the outside of the eye and down the outside of your cheek.
The Lacrimal System
To comprehend the logic behind how the medical communitytreats eye contamination situations you first should understand the eye's lacrimal system. The human eye is equipped with an automatic lubricating and cleansing mechanism, called the lacrimal system (see illustration). It consists of the lacrimal gland which produces tears, the ducts that channel tears from the lacrimal gland to the ocular surface, and the lacrimal puncta which are drains that channel excess fluids out of the ocular surface.
Importantly, the lacrimal puncta drain excess fluids directly into the nasal cavity. This process is the reason why your nose runs when you cry.
The eyelid also plays a key role. As we blink, the eyelid wipes the cornea pushing contaminants and excess fluids toward the lacrimal puncta – or the ocular surface's drains.
If a hazardous substance is introduced into the eye, nature's own cleansing mechanism can serve to force the contaminant into the nasal cavity, where it can be breathed into the lungs or swallowed.
Eye irrigation: The medically consistent way
The medical profession teaches and practices irrigating eyes by introducing the flushing fluid at the inner corner of the eye – adjacent to the nose – and letting it run across the eye to the outer edge. In effect, irrigation is performed by moving the fluid away from the lacrimal puncta. This is opposite the flow direction of traditional eyewash products that flow water from the outside-in, pushing contaminants toward the inner corners of the eyes where these susceptible tear ducts, glands and canals are located. Pushing contaminants toward the nose not only risks introducing them into the nasal cavity, but also can allow the same contaminant to be introduced into the other eye.
The ideal method of irrigating eyes in any use is by using products that mirror approved medical protocols. Eyewash streams that are inverted contact the eyes at the inner canthus, or corner, adjacent to the bridge of the nose. Contaminants are thus swept away from the lacrimal system to the outside of the eye where gravity takes over and runs them into the eyewash bowl (see image). This added protection to valuable internal organs helps reduce unnecessary exacerbation of injuries.
Consistent laminar flow for victim comfort
Additionally, the use of laminar flow design in the eyewash streams is another medical recommendation. A laminar flow is one in which there is an absence of turbulence, because the stream is "built" in layers. Turbulence or inconsistencies in the flow stream can strike the eye as a change in total pressure, making the victim much less comfortable during the flushing process and less likely to stay in the water for the required duration. The best approach is to provide an even, comfortable, predictable stream height and circumference, accomplished by using laminar design principles.

Times are changing, as are the protocols and practices of emergency equipment manufacturers. Irrigating eyes in a manner that is consistent with medical procedures provides the ideal situation for a victim from a comfort and effectiveness standpoint in a circumstance that may not be so ideal.

Things to Consider When Choosing Emergency Showers and Eyewashes

By Jim Schneider, Plumbing Engineer Magazine

In many work environments, properly installed and utilized emergency fixtures can mean the difference between a minor injury and a major injury or worse. When health and safety is on the line, it's important to make sure all necessary considerations are taken into account when facilities are being designed and built.

Plumbing Engineer recently spoke to Margo Mee, Product Manager at Haws Corp., about things to think about when choosing emergency fixtures and systems.

PE: Can you tell us about Haws' background with emergency fixtures? 

MM: Haws invents, manufactures and builds drinking fountains and standardized and customized emergency response products. For all our products, we continually focus on quality, service, reliability and complete solution support just as we have done for more than 100 years.

PE: What are some of the primary considerations when selecting emergency fixtures?

MM: When researching and purchasing a unit, a product that mimics medical protocols, offers full ANSI compliance in all scenarios, and really considers victim needs and comfort is the ideal solution to offer a complete emergency response system.

PE: From the manufacturing side, what are some of your primary considerations when designing and making emergency fixtures?

MM: Victim comfort for maximum results is the primary consideration when designing emergency products, but it also important that the product is reliable and durable. Our quality products are thoroughly tested and evaluated at numerous points during design and build.

PE: What kinds of challenges do you face with emergency fixtures? How do you deal with those challenges?

MM: Because they are not used frequently, a lot of facilities will place their importance on the back burner and not evaluate if their site's needs have changed, if the install location is still ideal, if the units even work or are ANSI compliant. The best way to address these common issues is through continuous education. We offer onsite facility testing and evaluation, detailed informational videos, and on-demand and live webinars with access to our engineering team.

PE: Has the standard and market for emergency fixtures remained pretty constant, or are there many updates and changes? 

MM: The last major change in the standard was in 2009. That revision included a definition for tempered water and from there you could see product changes. The market itself continues to grow as people are more educated and are asking the right questions and demand that their site provide the ideal solution. Manufacturers are held accountable for providing a reliable product and if they can't adhere, their products are being replaced.

PE: Are there any trends or updates to the standard you see on the horizon?

MM: We would hope to see a revision in the next 6-12 months.

PE: You wrote a white paper about exceeding the ANSI Z358.1 Standard. Can you tell us a little about the baseline of the standard itself?

MM: The ANSI Z358.1 Standard defines emergency eyewash and shower design, location, testing, activation, and temperature requirements for proper functionality and usage. Simply providing emergency eyewash and shower products is not enough. Facilities must inspect, test, and monitor emergency equipment system readiness and performance. Even though the most current ANSI Z358.1 standard now dates to 2009, most emergency eyewash and shower units across North America still do not yet comply with these significant provisions.

PE: Why should end users be looking to exceed the standard?

MM: Treat the situation as if you could be a victim. You would only want the best solution that performs as required as well as provides an additional benefits so the emergency response tool doesn't cause further injury.

PE: How can products and systems exceed that standard?

MM: Haws products go beyond the minimum performances of emergency eyewashes and showers requirements by keeping the victim in mind when in an emergency situation. Haws products include victim comfort with water pressure and flow, effective flushing with the use of our unique AXION directional flow, appropriate and recognizable color coding, and temperature controls to encourage proper usage. In addition, Haws offers a variety of educational tools to help educate and train users.

Eyewashes: Is It "1 Second" or "1 Motion"?

The  ANSI Z358.1 Standard (American National Standard) mandates that proper eyewash activation – which describes a unit going from "off" to "on"- shall take one second or less.  This requirement has held true since the inception of the ANSI Standard in 1981 and throughout all revisions including 1990, 1998, 2004, 2009 and 2014. Despite this, the myth that the eyewash must go from "off" to "on" in one motion continues to be inaccurately shared.

To quote the 2014 Standard: "The valve shall be simple to operate and shall go from "off" to "on" in 1 second or less."

This disconnect in awareness of the activation requirement has come up especially pertaining to faucet-mounted eyewashes where it is required for the user to turn on the water supply and then activate the unit, hence a two motion activation.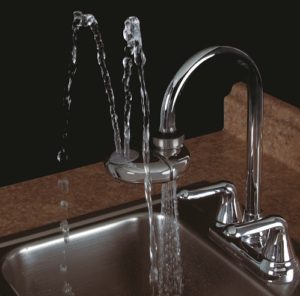 Specifically, the Haws® AXION® eyePOD® faucet-mounted eyewash has proven through testing that it meets the "off to on in one second or less" activation requirement.
Mounting easily to standard faucets, the AXION eyePOD provides healthcare offices, laboratories, schools, and even households with medically consistent inverted eyewash flushing technology.
As seen below, a simple rotation of the unit transforms normal faucet capabilities into a fully-functioning, ANSI compliant eyewash station.


Medically Superior Response®
The trademarked inverted water streams gently flush contaminants away from sensitive glands and ducts that surround the eye. The added protection to these valuable organs helps reduce against unnecessary injury.

Click here to learn more about the AXION eyePOD.

If interested in pricing information or receiving a quote, click here.

For more information on the ANSI Z358.1 Standard for emergency showers and eyewashes, visit our ANSI Resources page.

The Difference Between AXION and Other Eyewashes

AXION® is an eye/face wash that covers not only the eyes but the entire face unlike most other products that just flush the eyes. Secondly, the AXION inverted water streams protect sensitive eye ducts and glands.

Additional features:

• Smooth laminar flow provide comfortable water pressure
• ANSI Z358.1 compliance for velocity, stream height, and gallons per minute
• Predictable stream height provides enhanced victim comfort for full 15-minute flush
• In-line strainer collects debris to help reduce injury aggravation
• Stainless steel ball and valve for durability
• Pre-built and fully water tested for reliability
• Integral flow control designed to match flow needs for ANSI compliance
• Customized facility options with corrosion-resistant ABS plastic or stainless steel

To learn more about the AXION technology, click here>>
Ready to retrofit your existing eyewashes to the AXION Technology? Our AXION Advantage® kits do just
that. The kits are supplied with adapters to convert 80% of competitive units including Acorn®, Bradley®, Encon®, Guardian®, and Speakman®. Simply twist off the old eyewash heads, apply the correct adapter, twist on the AXION eye/face wash head, and test for ANSI compliance! Click here to learn more or buy now!

Global Composite Supplier Chooses AXION® to Put Safety First

As a worldwide leader in the manufacturing of resin chemicals, Alpha Owens-Corning (AOC) understands the value of putting safety first.

When one of the North American AOC facilities needed to upgrade aging safety equipment, the decision fell to Catherine Sprigg, Environmental Health and Safety Coordinator at the Lakeland, Florida plant.
After seeing the Haws AXION® MSR eye/face wash and shower technology in a safety supplier catalog and at a trade show, the decision was easy.

AOC retrofitted existing competitive safety equipment with medically-superior AXION inverted-flow technology. "They were easy to install," she says. "A quality product at a reasonable price."

FAQ's on the AXION eyePOD Faucet-Mounted Eyewash

AXION® eyePOD®- An AXION Eyewash Everywhere

The AXION eyePOD offers a thermostatically-controlled, faucet-mounted eyewash that provides facilities with AXION Medically Superior Response eyewash capabilities in an attractive, low profile, cost efficient design.
How does it work?
Using the eyePOD is easy. Simply activate your faucet and rotate the front of the eyePOD one-half turn, either direction, to point the eyewash spouts upward. Water is discharged from the two eyewash ports for a soothing eye-cleansing experience. Once completed, rotate the eyePOD back to its standard position, with the logo facing upward, and water will flow naturally through your faucet.
When is a faucet-mounted eyewash needed?
The need for any eyewash depends on the level of workplace hazards. If there is a risk of splash, irritant or debris into the eyes, then most regulatory bodies mandate an ANSI Z358.1 Standard compliant eyewash with a 1-second activation. A faucet-mounted unit offers economical advantages, ease of use, and location convenience.
Where should it be located?
According to the ANSI Z358.1 Standard, it is recommended that units be in accessible locations not more than 10 seconds away from the hazard, on the same level as the hazard, and free from obstructions that may inhibit its immediate use.
What is included with the AXION eyePOD?
The AXION eyePOD comes with four common faucet adapters to allow the unit to mount onto almost any faucet. It is pre-assembled and has a .5 GPM (1.89 LPM) multi-stream faucet flow and an optional 1 GPM (3.78 LPM) single stream laminar faucet flow. Lastly, the unit comes with the ANSI Z358.1 Standard required signage and easy-to-understand installation, usage and maintenance instructions.
How do I install it?
Included with the eyePOD are a variety of industry standard adapters that allows it to be mounted onto most standard faucets. Unscrew the existing aerator from the bottom of your faucet and replace it with the eyePOD. Installation videos are available at www.axioneyepod.com
What certifications does the AXION eyePOD have?
The AXION eyePOD is certified by CSA to meet ASME A112.18.1/CSA B125.1 and ANSI Z358.1 Standards for Emergency Eyewash and Shower Equipment. Product is compliant to NSF 61, California Health and Safety Code 116875 (AB 1953) and NSF/ANSI 372, along with all current Federal Regulations for the disabled including those in the Americans with Disabilities Act when properly installed on an ADA compliant faucet/sink with knee clearance installation.
 How often do I need to test the unit?
As per the ANSI Z358.1 Standard, the unit should be activated weekly to ensure proper performance. The unit can be easily tested witusing our ANSI Z358.1 checklist (available on www.hawsco.com).
Is there a risk of having the water too hot?

No. The eyePOD features a built-in thermostatic safety valve that will automatically shut off eyewash flows at 100°F (37°C), diverting all water out through the aerator faucet at the bottom of the unit. This protects users from accidentally irrigating their eyes with water that is too hot. When water temperatures fall to an acceptable degree (below 100°F), eyewash flows are automatically restored. You do not need to replace the thermostatic safety valve if activated.

How do I clean and care for the unit?

We recommend using a mild soap and water combination when outside cleaning of the unit is required. The AXION eyePOD is self-draining when placed in the downward faucet mode and should always be returned to this mode after eyewash use to allow for drainage.

Why does this unit look so different from others on the market?

It is the only unit to contain a built-in thermostatic safety valve and to feature AXION MSR technology providing an inverted water flow pattern consistent with first aid protocols. This directional flow mitigates the risk of inhalation or ingestion of hazardous contaminants via the tear ducts during eye cleansing. Traditional eyewashes irrigate eyes in the opposite manner, potentially further injuring the victim's eyes and nasal cavity. The eyePOD is the only faucet-mounted eyewash that duplicates healthcare professional methodology by flushing from the inside-out.

To order your own eyePOD, visit the product page>>

To download this FAQ Document, click here>>

3 Reasons You Should Stop by the Haws Booth at NSC

The National Safety Council Expo will welcome more than 14,000 health and safety professionals and Haws will again be exhibiting at BOOTH #2332! In addition, we will be offering complementary ANSI compliance site surveys.

Here are just 3 reasons why you should make the Haws BOOTH #2332 one of your stops at the expo:

1. GIVE-AWAYS: Now who doesn't like free pens, stickers, and Nalgene water bottles? What! Yes, you heard right. We'll be handing out FREE quality 16oz Nalgene water bottles with our gorgeous logo just for stopping by our booth and you get to talk to our educated and experienced staff about all that Haws emergency equipment has to offer!
2. GAMES: We'll be giving you the change to win a $50 Amazon gift card by playing the AXION Advantage Upgrade game. You'll be timed to see how quickly you can remove the old eyewash heads, find the right adapter, and twist on the inverted-flow AXION eye/face wash head. The one who does it in the shortest amount of time wins!
3. NEW PRODUCTS: Stop by and ask about the new Performance Series-Tempered Water Solutions by Haws Integrated. We'll have literature on the Performance Series as well as large pictorial banners of the units for your viewing including the OH&S New Product of the Year – Model 8720. We'll also be featuring our AXION technology via a working water display so you can visually see the difference in the AXION inverted flow versus traditional dual-head eyewashes.
So what's stopping you? We'll see you at BOOTH #2332
If you have yet to register, be our guest and receive a complimentary one day expo hall pass on the day of your choice (a $100 dollar value), or you can apply the $100 towards a Full Conference Pass or 3 Day Expo Pass.

For a Free Entry Badge Click Here>>

Pulp and Paper Mill Upgrades to Meet Compliance

One of the leading manufacturers of corrugated and consumer packaging in North America is committed to exceeding expectations for both its customers and its more than 15,000 employees throughout all facets of the organization.
When a new site safety manager joined the organization, he suspected there were issues with the plant's emergency response equipment, particularly safety showers and eyewashes.

Following a thorough review of Haws safety shower and eyewash survey results, the safety manager purchased 40 AXION Advantage™ kits to retrofit the majority of the plant's existing showers and eyewashes, which included product from a variety of companies.

Have You Seen a Haws?

Have you seen a Haws product installed out in the field? If so, hashtag #Haws for a chance to win a $25 Starbucks card!
AXION® eyePOD® from a Toronto based dental practice. @targetcontracting

Antique Haws drinking fountain in Arizona. @iamkalin

Brita® Hydration Station® installation on UNLV campus. @ttbtatunlv

Haws bubbler head. @rusticranger

Haws eyewash poster. @moxymoth

ANSI Z358.1 Compliance presentation by Haws® at the Upcoming ASSE Safety Expo

If you are attending the upcoming ASSE Safety 2015 Expo in Dallas, plan to attend Haws' presentation on the ANSI Z358.1 Standard. Our very own Casey Hayes, Director of Haws Integrated™ Sales and Operations, will be the speaker at the show on June 8th from 10:20 am – 11:45 am. The topic of his presentation is "Meeting and Exceeding the ANSI Z358.1 Standard for Emergency Equipment." This is session 527.
While you're at it, stop by our Booth #540 and grab a free, reusable Nalgene® bottle! Come learn more about our various product offerings including our emergency eyewash and shower retrofit kits. The AXION Advantage® upgrade systems offer a medically superior response for upgrading existing competitive emergency eyewash and shower equipment while exceeding ANSI compliance.

We look forward to seeing you!

The only Steam Water Heater available on the market

Haws Model 9400 AXION® Steam Water Heater uses existing plant steam to create a hot water supply to provide emergency showers and eyewashes with constant tepid water with flows up to 25 gpm.
The AXION Steam Water Heater operates on a typical plant steam pressure. The plant steam and water never mix. The steam and water are separated by brazed plate heat exchanger. Steam temperature reaching a high of 350 degrees Fahrenheit, with steam pressure reaching a high 60 PSIG and a low pressure of 3 BAR. Water temperatures reach a high of 80 degrees Fahrenheit with a low of 40 degrees Fahrenheit. The water pressure reaches a high of 90 PSIG and a low of 4 BAR. The water and steam feature for the AXION Steam Water Heater work together to create a product that provides a safety solution for increased victim comfort.
Features of the AXION Steam Water Heater include:
Flow Regulation
Freeze Protected
Fully Assembled
Thermostatic Protection
Meets requirements of Buy America Act
Benefits of the AXION Steam Water Heater include:
Lightweight design
Easily supported by pipe connections
Protective enclosure can be readily removed for servicing
Shuttle design that eliminates valve sticking
Provides a safety solution for increased victim comfort
Looking for more details regarding the AXION Steam Water Heater? Ask an Expert!  The question box is located at the third tab on the bottom of the page. Click here to be directed to the Ask an Expert link.

4 Real Life Eyewash Installations

Take a photo of a Haws product you have or have seen and post it on our Facebook or hashtag #haws by April 30 and we'll send you a free reusable Nalgene bottle!
To learn more about Haws eyewashes and eye/face washes, click here.