The  ANSI Z358.1 Standard (American National Standard) mandates that proper eyewash activation – which describes a unit going from "off" to "on"- shall take one second or less.  This requirement has held true since the inception of the ANSI Standard in 1981 and throughout all revisions including 1990, 1998, 2004, 2009 and 2014. Despite this, the myth that the eyewash must go from "off" to "on" in one motion continues to be inaccurately shared.
To quote the 2014 Standard: "The valve shall be simple to operate and shall go from "off" to "on" in 1 second or less."
This disconnect in awareness of the activation requirement has come up especially pertaining to faucet-mounted eyewashes where it is required for the user to turn on the water supply and then activate the unit, hence a two motion activation.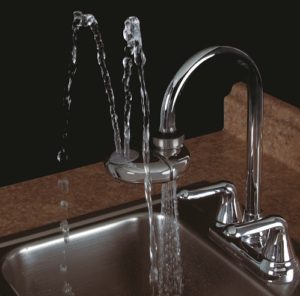 Specifically, the Haws® AXION® eyePOD® faucet-mounted eyewash has proven through testing that it meets the "off to on in one second or less" activation requirement.
Mounting easily to standard faucets, the AXION eyePOD provides healthcare offices, laboratories, schools, and even households with medically consistent inverted eyewash flushing technology.
As seen below, a simple rotation of the unit transforms normal faucet capabilities into a fully-functioning, ANSI compliant eyewash station.


Medically Superior Response®
The trademarked inverted water streams gently flush contaminants away from sensitive glands and ducts that surround the eye. The added protection to these valuable organs helps reduce against unnecessary injury.
Click here to learn more about the AXION eyePOD.
If interested in pricing information or receiving a quote, click here.
For more information on the ANSI Z358.1 Standard for emergency showers and eyewashes, visit our ANSI Resources page.